Deadline extended – Philippe Keraudren Mobility Fellowship 2023–24
2023-04-05 12:00 PM
The deadline for applications for the Philippe Keraudren Mobility Fellowship is now 28 April. Hear from former fellow and PhD student Rebecca Marconi.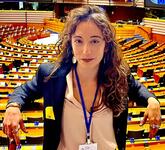 The Fellowship is currently offered to candidates from any EASSH member. It provides fellows with the opportunity to gain first-hand experience, knowledge, and professional skills with international institutions and policy mechanisms.
EASSH spoke with the former fellow, Rebecca Marconi, PhD student in Applied Economics (Law and Innovation course) at the University of Macerata (UniMc, Italy). Rebecca was the first fellow, working alongside EASSH Director, Gabi Lombardo, from September 2022 to March 2023.
At EASSH, she managed many different tasks supporting policy advocacy and the secretariat's activities, translating the organisation's mission into projects and opportunities. She also strengthened her political knowledge and acquired policy advocacy skills.
Rebecca's feedback
1) What are your main takeaways from your time working as a fellow?
Thanks to the fellowship at EASSH, I had the opportunity to understand how advocacy works in SSH and see the real impacts. This is often difficult to do from the outside and I found out that it requires both effort and strategic skills.
Science policy is a complex world that needs the input of the scientific community. At EASSH I have become more aware of the need to build a strong community, one that is not fragmented. A community of cooperation and not of competition, a community in which knowledge becomes a tool to welcome and build the near future.
2) How has it helped you in your career and your journey?
I had the opportunity to deepen my understanding of politics and acquire policy advocacy skills. I was better able to understand the reach of the social sciences research disciplines, well beyond the field.
EASSH is working hard to propose new methodologies and approaches which put the human aspect at the core of fundamental research. EASSH also leads cross-disciplinary collaboration and it has been an enlightening experience to be a part of. I have found valuable encouragement to think of my research journey as part of a wider community.
3) Three reasons you would recommend someone else to be a fellow.
I would recommend a fellowship at EASSH as a valuable learning experience both in a professional and human sense. In its day-to-day work, EASSH focuses on the person and the value of human relationships as a fundamental and essential tool for the advancement of SSH research and society in general. This approach meant that I was able to develop my communication and networking skills.
In addition, I would recommend this experience for the opportunity to:
improve your research skills and ability to integrate different values, strategic priorities, and interests into position papers and policy papers;
improve your communication skills and competence in the use of digital tools and methods;
explore new areas of research and make interdisciplinary connections, not least by having the chance to meet professionals and experts from many interesting fields;
explore the heart of the European Union offered by the city of Brussels with its great networking and cultural opportunities.
Ultimately, I would recommend the Philippe Keraudren Fellowship Programme to anyone who wants to get involved in the challenging field of advocacy and science policy. Much can be achieved for the SSH with initiative and vision. You'll experience this for yourself!
About Rebecca
Rebecca Marconi is a PhD student in Applied Economics (Law and Innovation course) at the University of Macerata (UniMc, Italy). She has a Master's degree in International Politics and Economic Relations and a second-level Master in Social Sciences at the School of Advanced Studies Giacomo Leopardi (UniMc). After her Master's degree, she worked as a researcher on projects related to the cultural and creative industries, educational poverty, the development of an urban ecosystem for innovation, and youth entrepreneurship.
In her research, she investigates the role of European funding programmes for local development, taking into account the role of SSH. She is also building an integrated governance model based on the Quadruple Helix Model, which addresses innovation processes. As a PhD student, she focuses on developments and impacts of the digital and green transition. She collaborates with the Grants Office of UniMc and with the European Policy Office of the Municipality of Macerata, dealing respectively with European research and innovation programmes and local development projects.
In 2018 she held the position of Youth Delegate at the Council of Europe. The same year, she won a scholarship from the Italian Ministry of Foreign Affairs and International Cooperation, which allowed her to work at the Italian Embassy in Argentina. She was one of the winners of the EUSAIR Academy Youth Contest in 2022 promoted by DG REGIO. She is the coordinator of the local board of the Association of PhD students and PhD graduates in Italy.
More information
Institutional profile: Rebeca Marconi