Director Gabi Lombardo gives prize-speech at Young Academy of Europe annual meeting
2018-12-03 10:25 AM
EASSH Director Gabi Lombardo was awarded the second Young Acadamy prize, recognising her work with EASSH in building a voice, community and strategic direction for social sciences and humanities, particularly with respect to future European research funding rounds.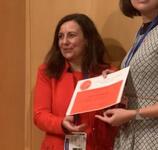 On Thursday 29 November, she collected that prize, giving a keynote speech to the Young Academy members as part of their joint annual meeting with the Academia Europea in Barcelona.
In her speech Gabi addressed the need for social sciences and humanities to be fully resourced and supported if we are to address the great societal challenges of our time, the value of social sciences and humanities organisations coming together to present a shared voice to policy and decision makers, and the exciting challenges that the Young Academy and all early career researchers will face in their careers, arguing that they should not consider themselves "just scientists", but as the guardians of truth, and the key to public trust in science.
Gabi said "Knowledge, research, understanding and a sound foundation in science allow us to choose what kind of paths we wish to take in serving our science and our societies. I would like to give a big thank you to the board of the Young Academy of Europe for this prize, and I will hold it tight as an incentive to do more and better in future."